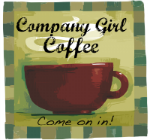 I've been a bit MIA for coffee lately - come in, pull up a seat and have some Stone Creek anniversary blend.
Long week. Too much to do at work, too many interuptions. I've not been keeping up well with the small things; at the moment, finding the time and energy to finish the big things has been a priority. This, too, shall pass, but in the meantime, all you can do is keep trudging on.
The end-of-hayfever-season cold is hanging on, so I'm planning to use it as an excuse to lay around and read tomorrow afternoon (life is busy when you have to plan to be lazy ahead of time). Provided I remember to pick it up from the library, the book is
The Christmas Box
. Rushing the season a bit, but if I wait too long, I won't be able to get it over the holidays. I'm feeling that I need to be super organized and ahead of schedule for the holidays, or I'll get to December 1st and say "Eh", and do nothing.
I did hit a
milestone
of sorts with this blog. Please click through to the post and leave a comment there; the more the merrier.
Better get to it - there's a chicken to throw some herbs on before I turn on the crockpot. It's always nice to come home to the smell of dinner waiting for you!