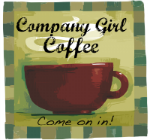 Pull up a chair and pour yourself a cup of coffee. I made it a bit stronger than usual this morning – I need it. Didn't sleep much last night, then came in to work extra early, only to discover our internet connection is down. Not only is that a major crisis on a university campus (the students all came back this week – I'm blaming them for the crash), but all – ALL of the systems we need to do our jobs are internet based. It's going to be a long day unless IT can find the problem quickly.
Cool, rainy weekend ahead, which suits me fine. My intention is to clean/reorganize the sewing room/office, which has become a bit of a catch-all over the last couple of months. Puttering around on a rainy afternoon sound s like heaven. No agenda, no deadline, just dinking around in the sewing room. If all goes well, there are two small projects I'd like to complete over the weekend.
Sunday afternoon I'm off to a birthday party for a darling little girl who is turning one year old. Rather than get a regular gift, I'm taking my camera along, planning to take a million pictures and put together a Snapfish album of her first birthday for her parents. They've taken a million pictures themselves, but I'm fairly certain none of them ever make it to prints. Snuggling up to the computer screen to look at old family photos just doesn't appeal to me as much as being able to handle a scrapbook.
A printed book of photos isn't subject to the vagaries of changes in software format or storage media, either.
Once upon a time, I had pretty good photog skills. I'm loving the digital camera I finally bought this spring. The only thing I'm not thrilled with is the default "flash on" setting. Even indoors in the evening I get great results without the flash – provided I remember to turn it off.
As long as the internet is down, I may as well do some paperwork filing around the office. It breeds when I'm not looking…
Two and a half hours later
– still no net. They've isolated it to just our floor, which is encouraging; they still don't know why, which is not. I've filed everything on top of the desk, gone through all the folders in the folder stand, organized all my materials/certificates from seminars and will shortly be reduced to going through the three (small) boxes of miscellaneous stuff that didn't find a home when I cleared out my office when I got new furniture. This could be good or bad: either the cleaning frenzy here will continue at home tonight, or it will leave me drained and unable to even think about cleaning any more…as of right now, it could go either way.
Three and a half hours later
- up at last. Judging from what I've seen of my e-mail, I kind of wish it weren't.