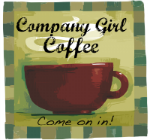 Friday at last! Pour yourself a cup (Stone Creek's mild blend this morning), pull up a chair and relax.
That is a good synopsis of my plans for this weekend. I realized this morning that I have a book ready to pick up at the library (Acedia and Me, since
Melissa
liked it so much!). As I went to check my e-mail to see how long they would hold it, I saw the notice that another book I requested is in (Elizabeth Peters - the last Vicky Bliss novel). The weather is supposed to be greyish and cool - perfect for curling up with a book and a hot drink.
In-person coffee with a
good friend
is on the schedule for sometime during the weekend (any idea when, Grace?), as are a couple of phone calls to set up future coffee, cards and craft dates.
The plan for this afternoon is to spent at least the last hour of the workday organizing my office and schedule. The auditors are mostly done; while they are here, it is a constant stream of interruptions. Add to that the flurry of other year-end reporting for which I'm responsible, and it's easy for the office to become rather...cluttered. A little bit of sorting this afternoon and a good, hard look at how to schedule time to work on two big, longer-term projects will put me in a good spot to start next week.
In the spirit of offering a little lagniappe:
Over the last several weeks, my quiet time reading has been in Isaiah and Jeremiah - lots of judgment and gloom. The saddest section of Scripture I've ever read is 2 Chronicles 36:15 - 16:
The LORD, the God of their fathers,sent persistently to them by his messengers, because he had compassion on his people and on his dwelling place. But they kept mocking the messengers of God, despising his words and scoffing at his prophets, until the wrath of the LORD rose against his people, until there was no remedy.

Can't you just hear the sorrow in God's voice, as His people continue to reject Him, no matter how much He tries to reach them? But the goal of judgment is restoration. God speaks hope in Jeremiah 32:36 - 41:
"Now therefore thus says the LORD, the God of Israel, concerning this city of which you say,'It is given into the hand of the king of Babylon by sword, by famine, and by pestilence': Behold, I will gather them from all the countries to which I drove them in my anger and my wrath and in great indignation. I will bring them back to this place, and I will make them dwell in safety. And they shall be my people, and I will be their God. I will give them one heart and one way, that they may fear me forever, for their own good and the good of their children after them. I will make with them an everlasting covenant, that I will not turn away from doing good to them. And I will put the fear of me in their hearts, that they may not turn from me. I will rejoice in doing them good, and I will plant them in this land in faithfulness, with all my heart and all my soul."

May we all be walking close to Him, so He may rejoice in doing us good!