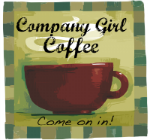 Happy Friday! The high for today is supposed to be 75, so you may want your coffee iced. Drink quickly, though, as the temperature tomorrow
might
reach a whopping 55!
Wisconsin, where both winter coats and flip flops are three season attire.
The local paper has an
article
about some of the less prominent places for patio dining, including one in my own neighborhood (Bunker's) about which I never knew. I have a gift certificate for Chez Jacques - if anyone would like to go to lunch with me, let me know (and for my "real life" friends who read here - I do mean that!). Truthfully, the idea of outside dining in Wisconsin at any time of year other than the mid-August five minute long height of summer makes me want to say, "Bring a coat! Or two!" See the note about temperature fluctuations above, and you understand why.
Unless Rachel Anne has a little thing related to moving furniture soon, the
chair
I just acquired may stay in the foyer a bit longer. I'm rearranging the furniture in my mind (much easier on the back) until it seems to work. Only then will I do the hard work.
Met a new friend last night for coffee and dessert. It was supposed to be a half hour meeting...so what if it ended up as almost
eight
half hours? There is a delight in face to face interaction that cannot be matched pixel to pixel.
The plan for tonight revolves around a DVD and an early bedtime. Since it is going to be delightfully
frigid
freezing
cool, it is probably a very good time to layer the bunch of quilt tops that are floating around. I can use the spray baste for some (which involves crawling around on the floor - not my favorite thing to do - but is quick) and safety pins for others (not as much on the floor, but slower and harder on the fingers). Not much fun either way.
Better get back to work - busy hands will make the day fly by.