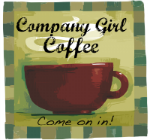 Finally Friday! After four day weeks in a row, this five day week seemed to last forever. Combine that with four nights of interrupted/not enough sleep, and you end up looking forward to taking a nap Friday night to start the weekend.
This weekend is incredibly clear of commitments (unlike next weekend, which is jammed). On the schedule: laundry, mopping bathroom and kitchen floors, vacuum/dust pretty much everything, pull fabric for at least one of the
three
four wedding quilts I need to make. Sleep late.
Another project is on my "maybe" list, one that I'll share here if it really happens, as I'll need lots of advice (which I probably won't take, but I'll explain that if it happens).
We are supposed to get 4 - 6" of heavy, wet snow overnight Saturday (hello, Spring!); though it will melt by Monday afternoon, I'm sure I'll need to brush it off the car to go to church Sunday morning. Silly me - I put the snow boots away last week.
That's all for the weekend here - what's up for your weekend?