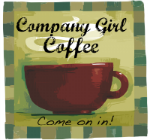 Good morning! A gorgeous one it is - sunny skies, temps going up to low eighties with low humidity. Enjoy it while you can, as the weekend will be hotter, humid and generally miserable.
On Memorial weekend Sunday, I joined a massive group of women (and a few intrepid men) in a ninety day read through of the Bible. While I've read through a number of times, it's never been in such a compressed time period. The first week I was on vacation, which made finding time to read a snap. This week, it's been more difficult to find the time, as well as more difficult to concentrate thanks to a head cold brought on by our bipolar weather. Prayers for constancy would be appreciated.
Reading, rather than projects, was the theme of the week off (and truthfully, much of the week since). Among the fiction works read were Joshilyn Jackson's
Between, Georgia
,
The Search Committee
, a novel about the relationships among a group of people sent out to find a new pastor, a few novellas in the High Heeled Mystery series and several other short stories.
The most engaging of the non-fiction is a book I'm not quite finished with yet -
The Apprentice: My Life in the Kitchen
by Jacques Pepin. His writing style is delightful, with a very natural voice and an ear for storytelling. I had no idea he had worked for Howard Johnson in the sixties, developing the food and menu for the restaurant chain, nor that after coming to America without a high school education, he eventually stopped just short of a doctorate from Columbia (in French Literature of the 18th century - his advisor turned down his thesis proposal on tracing great banquets in literature as "too common"; at that point, he decided to continue pursuing his career in food, rather than become an academic). Anyway, it's well worth the read.
The bathroom painting obviously didn't get done - eh, I'm not in a rush. Picking at prep for that, working a bit in the basement and rearranging the kitchen pantry is on the docket for the weekend - puttery stuff that won't make me all hot and sweaty.