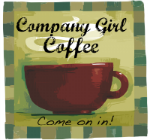 Welcome! Grab a mug, pour yourself a cup and pull up a chair. I've taken an unexpected vacation day today, and would appreciate the company.
It's been a bit of an up and down week. An uncle passed away Tuesday, my promotion (and salary increase, finally settled and retro to 1/1) is at last scheduled to be announced, we've had a fairly large (8") snowstorm overnight and it's my birthday. I need today just to catch a breath.
No great plans for the weekend. The wake for my uncle is tonight, and I have a number of errands to run over the weekend. Somewhere in there, a long-neglected craft needs to be finished. I've been using the sewing cabinet - a lovely, huge expanse of table when the machine is stowed, the solid insert dropped in the hole and the drop leaf up - for study, writing, meals...everything
except
sewing.
The wind is picking up, the temperatures are dropping and the temptation is to spend most of the day curled up in a chair reading. But duty calls; minimum maintenance and a bit of laundry must be done first.