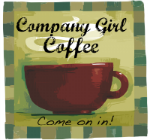 Happy Friday! It's been a long week, what with snowstorms and freezing weather. A cup of coffee and a relaxing conversation with some friends is the perfect end to the week.
Although I'm often a day or two late, I've been picking away at the small things. The Christmas decorations are mostly up, though I do need to iron the tablecloth for the dining room table; poor thing lives in the drawer the rest of the year and tends to develop stress wrinkles.
Slow weekend planned. I may come in to work for a while on Saturday, assuming they manage to fix our heat (which seems to be very apathetic about working today, though the rumor is facilities is working on it). Has anyone seen Wall-E? I haven't, and my Blockbuster rental came last night. The plan is to be cozy Saturday night or Sunday afternoon - a plate of chicken stew, a warm lap quilt, a steaming mug of hot chocolate and the movie.
The rest of the weekend will be little things - laundry, a bit of cleaning, maybe a bit of sewing. The sewing is a bit problematic, as the pneumatics on my old office chair have finally given up the ghost: when someone who is only 5' almost 4" says the chair is too low, you
know
it's too low! Oh well, that's what phone books are for...
Today is only two weeks until Christmas; after this weekend, anything not yet done will remain not done, so that the run-up to the holiday can be spent contemplating the
reason
for the holiday.