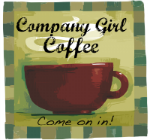 Some weeks fly by, and some weeks drag. The week before a vacation always, always lasts longer than any other during the year.
Ahh, vacation. I'm off now until the Tuesday after Memorial Day. Sleep keeps coming up as a high priority, along with reading, quilting, cooking for the freezer, thumbing through old quilt magazines and sending back RSVP notices for several weddings.
Two of my three book holds are ready for pick up: Julie Morgenstern's
Never Check E-mail in the Morning
and Catherine Blyth's
The Art of Conversation: A Guided Tour of a Neglected Pleasure
. The first is an old book on time management strategies at work; the second is a new book discovered on a journey up the Amazon.com. The third, and the one that will not be available for a bit because of prior holds, is
Artisan Breads in Five Minutes a Day
. The baking will have to wait.
On Tuesday night I'm hosting a small gathering, and plan to use all the girly things - the good china, the silver (which may need polishing), linen tablecloth and napkins (I
like
to iron), the crystal stemware. Aside from the sheer delight of using the pretties, a sense of heritage is involved, as everything came to me from either my grandmother (the silver) or my mom (all the rest, when she downsized to her condo). The pattern of violets on the china, paired with the lavender linens create a perfect spring table.
The summer bench has been placed on the porch, the matching wreath hung on the door. The next step is to buy the flowers for the planter - thanks so much for your suggestions! After storms tomorrow afternoon, and a very chilly low of 36 overnight Saturday, the rest of the week is supposed to be sunny and warming, to highs near eighty at the end of the week. I'd say it's safe to plant!